Military Inspired Outfits & more...
Happy Friday fashion lovers. Wanted to do a post before the weekend to add a few of my ootd posts from this week that I just posted today since I have not been feeling well all week. I am happy to say I am feeling better and praying that I will continue to feel better till my next treatment in another 4-6 weeks.
I have always had a love for military influenced fashion pieces and wanted to share a few favorites I found on eBay while online shopping yesterday.
Adore this army green vest and my mind just races with all kinds of cute pieces I already own that I could style this with not just for the fall and winter but even spring. I love how they paired it with a pair of distressed denim shorts, sandals and a small bag. I ordered this off eBay for $15 and can't wait to receive it.
Who doesn't need an amazing camouflage jacket? I ordered two last night, I decided on this amazing patches jacket with cargo pockets and then went with an oversized camo and floral print jacket, both were under $40. I will post a photo of the floral and camo one shortly.
I love to pair my camo gear and army green pieces with black muscle tanks or graphic tees. I have picked up several Spiritual Gangster tanks, tees and sweatshirts on eBay for under $30 some as low as $12. Love this graphic, "Do all things with love". Great quote. ✌️❤️
Scooped up this cute fringe side graphic tank, "Be yourself," also found on eBay and was $15 with shipping. Can't wait to pair this with camo or black jeans.
//All items above I found while doing one of my nightly fashion searches on Ebay except for this lovely suede skirt I found on Polyvore and link is in a prior post.//
Last up found this cute skirt on Polyvore playing with some outfit ideas last night and had to order for my closet. Love suede and fringe for fall. Can't wait to pair this with some cute fringe heels or sandals and some of my many graphic tees or tanks and even some cute tops I have. Love this style and anything vintage or bohemian inspired.
Save 10% if you use my link to Tara Lynn's Boutique
One of my own ootd posts from this week. I found this amazing pencil skirt in a camo print last year from Tara Lynn's boutique. For $29 it was a great find and is one of my favorite mid length skirts. I paired it with a black graphic tank, from Lola and Darla, and army green sweater style vest.
//Tank Top by Lola and Darla, can be found: I'd Copy Me too tank
Also available in white and is $32//
//My Camo Cowhide Nine West heels are many years old but found these similar style: Camo Heels//
//Sweater Vest was also an older item in my closet so did some searching and found:
Sierra Trading Sweater Vest//
//Also liked this non sweater material, open front, sheer material vest, with cute zip up front and tie sides as an option for a similar look:
Cichic Army Green Vest//
Of course being such a huge lover of camouflage I do own several pairs of camo shoes, from sandals, sneakers and of course heels. These cute heels are made by Nine West and I got this a few years ago for under $40 at TJ Maxx. They are a cowhide material and love the pattern. It also helps they are unbelievably comfortable. For me I often don't wear heels because they aren't the most comfortable and I am on my feet a lot running around so I like to have on comfortable shoes. I am not one to give up my comfort for height like some ladies, I am luckily tall for a lady being 5'8-5'9 barefoot but I do love to wear heels with skirts because they do make your legs look amazing. If I buy a pair of heels and discover they aren't comfortable after a few wears or adding a gel insert, I donate or sell them. Sadly usually I can't tell till after I wear them several times.
My jewelry is always important to me. I don't like to leave the house without or j feel bare. Here I picked out a Turkish style gold tone necklace that was a gift along with some gold Alex and Ani bangles and my favorite ring, a bison skull ring made by Fawning in love, one of my favorite Etsy shops.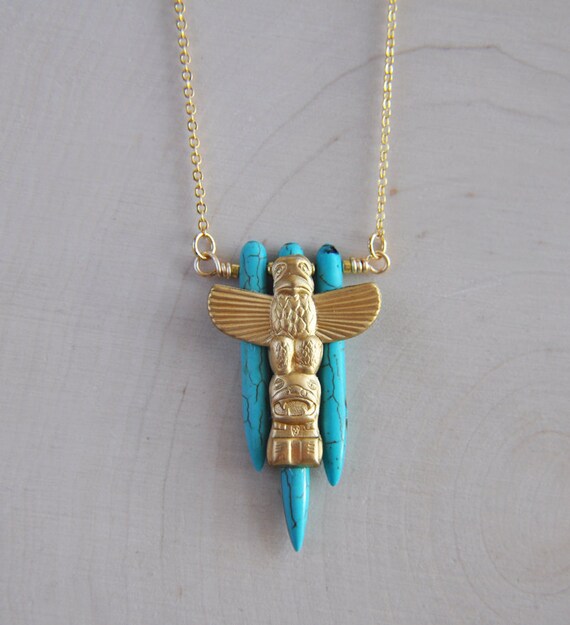 //Turquoise necklace I am wearing is no longer available but you can purchase a similar look, pictured above by same designer here: Totem Necklace, Turquoise $22//
Above I am wearing a turquoise or aqua blue, fringe sleeved tank with Aztec print I actually found at Sports Authority a few years back when shopping for a camping trip. It is made by Rip Curl and have it in a few colors. I have always loved fringe details and I adore this tank's fringed sleeve detail. I paired it with some Aztec printed leggings, super comfy and soft. These are cream with turquoise, aqua, coral and black Aztec pattern. These are from Bohemian Vibe Boutique. The turquoise skull pendant I made while in TN with my girls at one of those bead stores. Have a matching bracelet as well.
//Leggings are sold out but they have a few other styles still in stock:
My turquoise bar style necklace with silver fringe is from Fawning in Love on Etsy, the arrowhead silver bangle with turquoise stones is from Rocksbox when they had one of their inventory clearance sales. The beaded Buddha bracelet was handmade by a lovely lady I met on Instagram, she has a shop on Etsy. You can find her on Instagram @gypsyhavenjewel and she has a link to her etsy store in her profile.
//Top is really old and unsure where it was from or even how long I have had it. I do however have the link for the skirt, the triple layer faux stone necklaces are no longer available though, from Forever 21, but they have lots of similar styles. Also check out my post on the new Fall line at Maurice's by Lacey Ryan she has some amazing layered necklaces. I just ordered close to $200 worth of her new line, love everything.//
//Vintage inspired, a line, button down front, jean skirt: Forever21 Denim Skirt//
Last up the same skirt I have had on repeat many times since I got it, this vintage feel, a line, denim, button front skirt from Forever21. Was going for a simple look so paired it with this light weight white tank with blue floral design, added the hand made beaded wood belt, which matches the back of my tank. The back of my tank is an open back, with thin straps that are joined together by a wooden O ring. Bracelet was a find from NC and is hand made with shades of blue, brown and gold beads.
Necklaces are from Forever21 and is a three layer set. The shortest one has a faux opalite stone pendant, then mid is a feather and longest is a faux brown agate slice stone. Still rocking my orange and coral, blonde ombré from summer. Think I am going to keep it for fall since orange is a great fall shade and will look fabulous with all the fall colors.
Hope you enjoyed my post and excited to be bringing another feature designer to the blog soon, along with some more fall trends. Have a great weekend xoxo ✌️❤️
P.S: I am currently working on adding all the clickable links now to my blog, as I mentioned awhile back I was out a laptop for a while and was strictly blogging from my phone. I still use my phone a lot to write blog posts but I am working on editing all old and newer posts with more details on the items I am wearing, where to find them or similar looks along with editing any typos from my amazing auto correct on my iPhone. Thank you all for your patience and I can't wait to make the blog easier for you to read, navigate and my posts easier for you to locate pieces that you like. Have a good one xoxo